How do you keep ahead in a highly competitive market?
That's a question printers in the label industry often ask themselves. Other than short lead times and the lowest cost price, a high-quality image is everything.
To elevate your labels and stand out from competitors, silk screen label printing is an effective option.
In this blog, I'll explain how you can apply this printing technique on a flexo press — and why you should.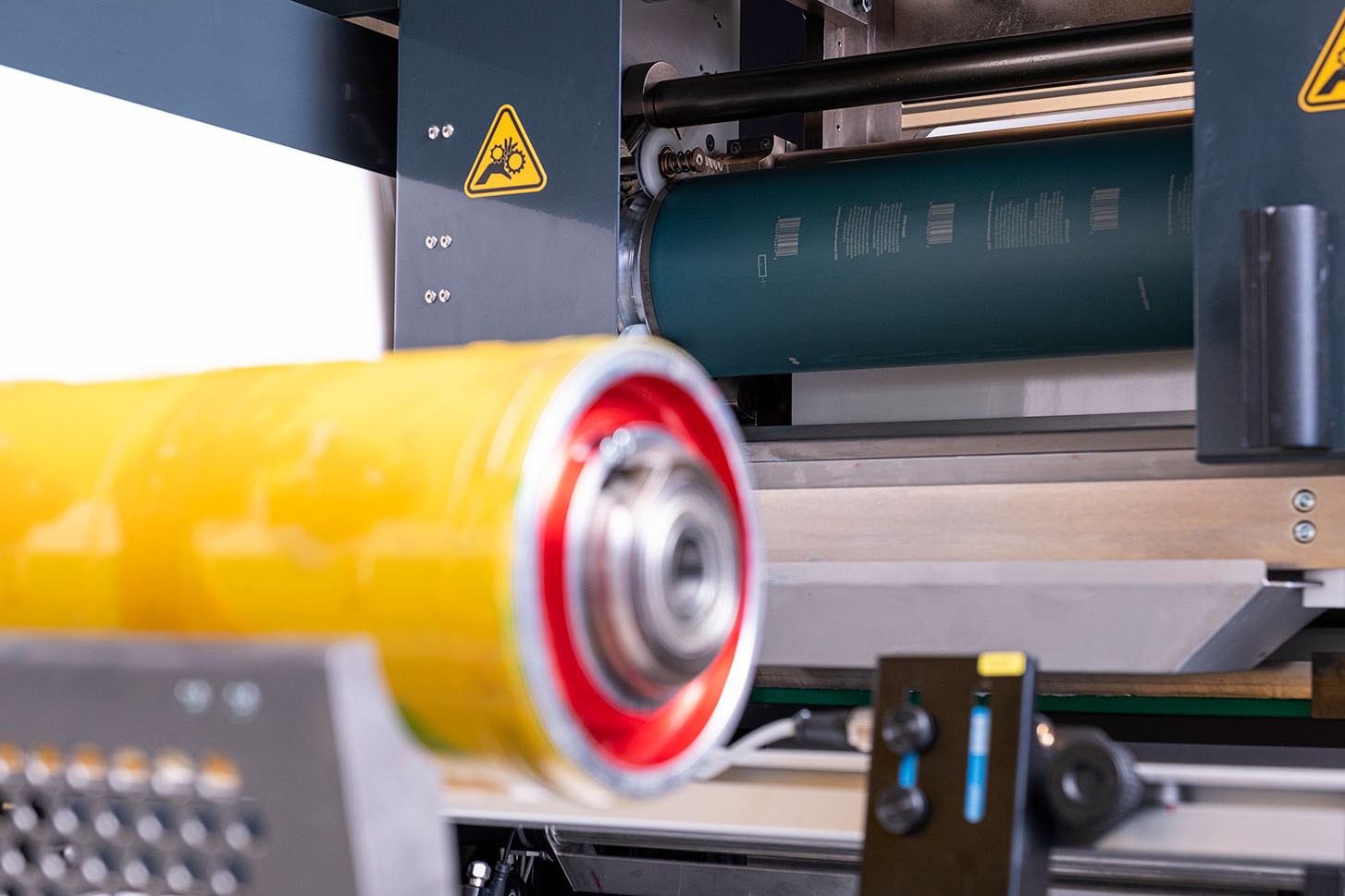 What's silk screen label printing?
Silk screening is an old yet versatile printing technique.
It offers a range of graphic advantages over other printing methods. Screen printing can lay down very thick ink deposits on almost any surface such as plastic, metal, paper, wood, fabric, and more. Labels printed with silk screen can be recognized by a thick raised layer of ink that's beautiful to touch.
A silk screen contains the image being printed and is used to transfer ink onto a substrate. A doctor blade moves across the silk screen pushing the ink through the image on the substrate underneath.
Screen printing enables rapid, reliable, and economical production of the 'non-label look'. Examples of effects using screen printing are:
Metallic colours
Strong opaques
Tactile warning symbols
Special varnishes
Scratch-off inks
These specific effects are based on larger ink lay down requirements or a combination of ink lay down and ink partial size.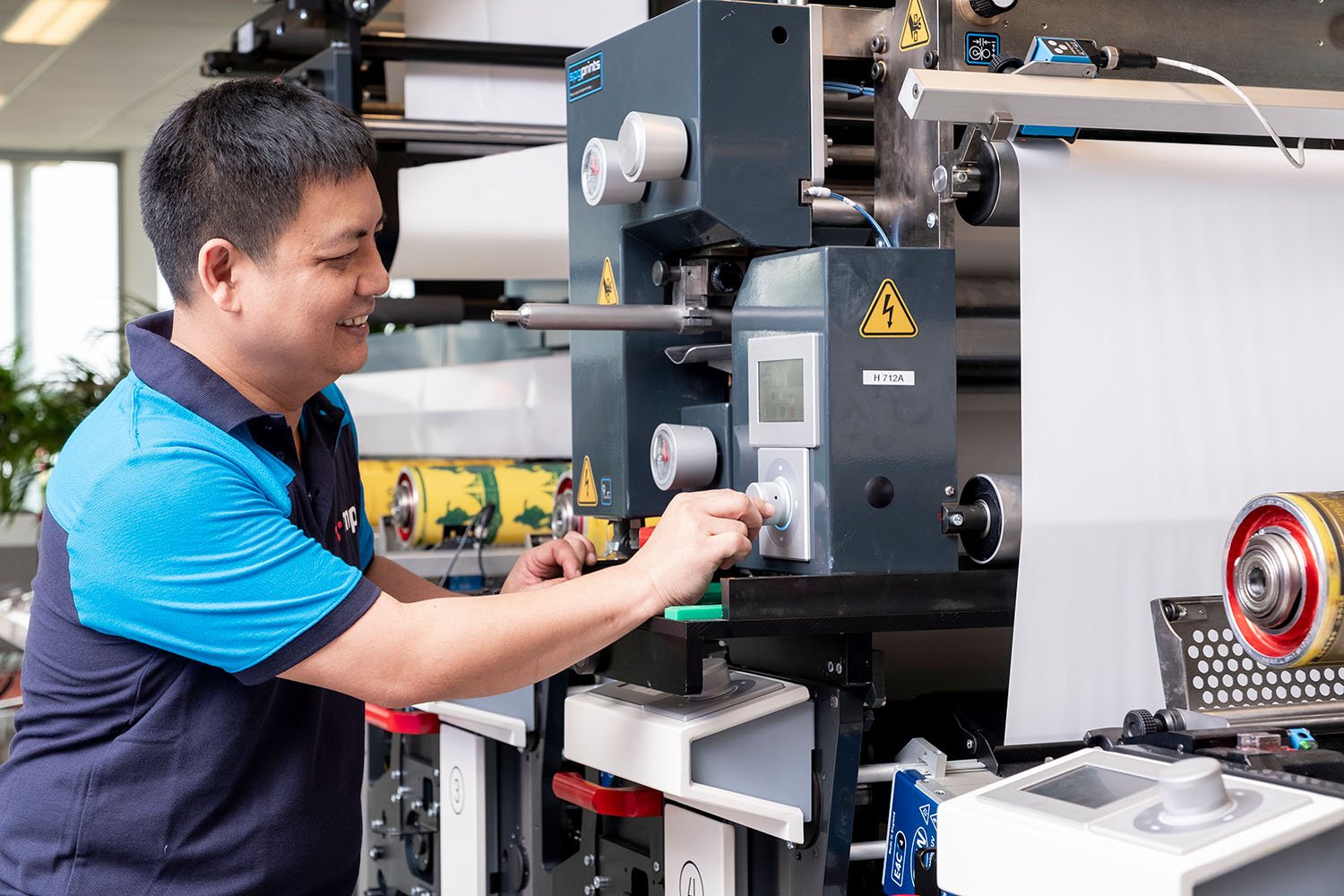 Advantages of screen printing
Screen printing has several advantages when used with labels:
Versatility: It's hard to find a printing method that's more versatile than screen printing; the applications are almost endless. To name a few: black light ink, glow in the dark ink, mirrored ink, and scratch-off ink.
High-quality and long-lasting: Due to the composition and thickness of inks used in screen printing this method can withstand far more stress than others without losing print quality. That's a plus, as certain labels don't hold up well if they're required to withstand outside elements such as humidity or moisture.
Unique shaped products: Silk screens are created for each order and colour, which means they can be custom-made for any size, no matter how challenging.
How to apply screen printing on a flexo press
Silk screen offers a wide range of printing possibilities on top of your flexo printing process. But how can you apply it in a flexible way?
There are two options:
A drop-in unit installed in the flexo press print station
A screen-printing unit on a rail that's placed on top of the press and can be moved to the desired print position
Each option has its pros and cons.
A drop-in unit requires more set-up time, but the unit can be applied to more than one press.
A rail unit can only be applied to one press, but it can be placed anywhere along the entire length of the flexo press and shifted to another print station. This flexibility makes it easy for your operators to place the unit in the right position when a job changes.
Connect to Grow
Adding screen printing to your printing process is a way to offer your customers a wider range of product possibilities. But there's more you can do to create a future-proof printing process.
We can help you automate your printing process and capture real-time insights from your printing press. From these insights, we can identify bottlenecks, inefficiencies in the operator process, and optimize your press performance.
Find out more about our Connect to Grow program here, and let's get started!