The relentless pursuit to print eye-catching label designs is now even easier on an MPS EF flexo press!
Thanks to another partner collaboration with Imageworx and Cyngient, MPS is now a certified printer for Color-Logic's system of reproducing metallic colors and print embellishments.
Add pizzazz to your labels economically
A world leader in metallic color communications systems, Color-Logic provides brands, designers, and printers with an accurate metallic color system to create print embellishments at a fraction of the cost typically associated with metallic ink or foil printing.
Their system provides a base of 280 metallic colors (55 of which are gold shades) with an optional 644 metallics colors, plus 4 primary predictable print embellishments for each of those colors that can be used independently or in conjunction with each other—replicated with only 5 colors on your MPS press!
A key factor is that Color-Logic considers the capabilities of the prepress, the press, the inks, the substrates, and coating being utilized so the designer knows what is really possible before going to creation. Color-Logic is also the world's first color communication system for printing on foil and reflective substrates, when using white ink and CMYK.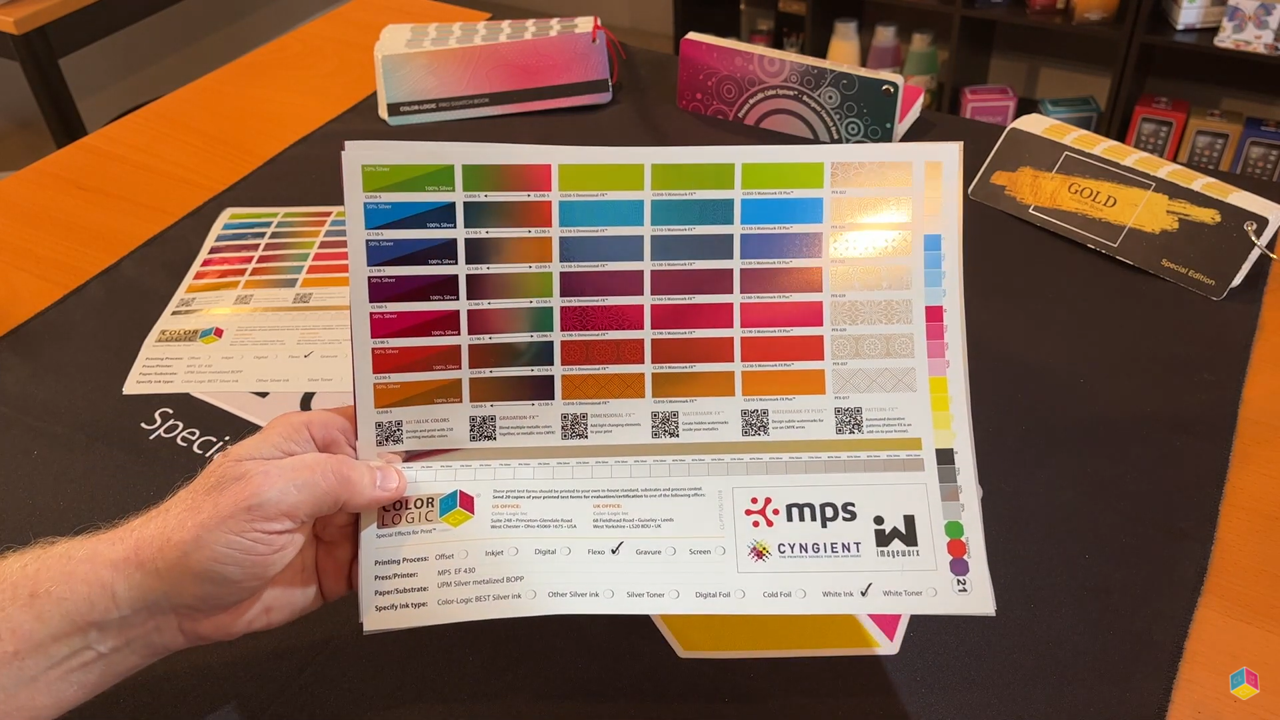 MPS takes the Color-Logic test
The MPS North American Technology and Expertise Center team led the initiative to determine what's possible with the MPS EF 430 flexo printing press and the world of Color-Logic metallics and embellishments, and brought in Imageworx and Cyngient to help us print the necessary evaluation test forms for certification.
Imageworx demonstrated the prepress ability to take the Color-Logic files and run them through their process to provide the plates that would properly demonstrate the Color-Logic colors and embellishments using their design tools.
Inks supplied by Cyngient determined the possible color gamut. Unlike CMYK or CMYK ECG (extended color gamut) printing where ICC (International Color Consortium) color management is used to match colors, metallic printing requires the printer to produce the color to demonstrate the colors possible. Most printers do this by trial and error or just stay away from metallic jobs.
We then printed the test forms on the MPS EF 430 flexo press with a fingerprint of 280 metallic colors (55 of which are gold shades) that can be accurately produced. The test forms, based on the Silver metallic BOPP PS material using CMYK and white Ink, demonstrated all the embellishments that can be achieved from the MPS press.
Radiant results
Mark Geeves, Director of Sales & Marketing & Co-Founder of Color-Logic was quite pleased with our print evaluation test forms. Watch this video to see the test evaluation forms we provided and hear Mark's feedback:

The test forms demonstrated 21 of Color-Logic's 924 metallic colors and all their embellishments. They looked for several items both visually and numerically using spectrophotometers for the certification and verified visually all their embellishments were produced properly and numerically to ensure the ability to consistently produce those results.
We demonstrated the ability to not only print Color-Logic's embellishments but did an excellent job in demonstrating their Security-FX techniques which requires excellent registration!
Dazzle your customers with Color-Logic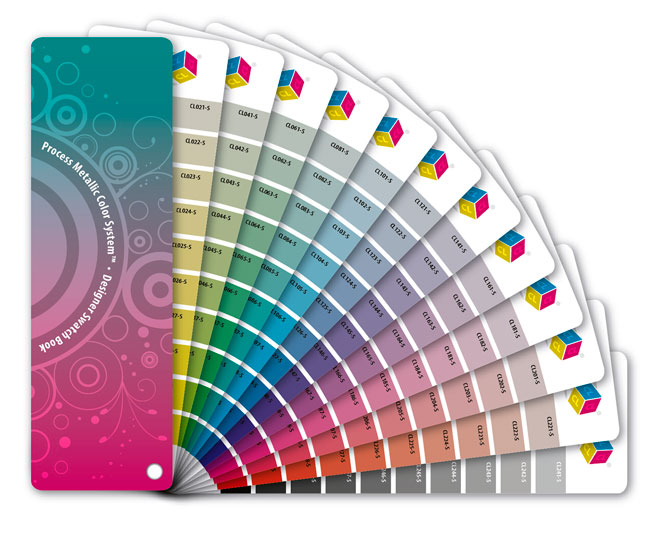 As an MPS printer, our certification with Color-Logic demonstrates we're fully capable of providing Color-Logic colors and print embellishments.
Design teams will enjoy the Color-Logic design tools (palettes for Illustrator, InDesign, Photoshop, and plugin for Photoshop for Adobe CC) for creating designs with peace of mind knowing the metallic colors and embellishments can be accurately and predictably produced.
Today's brands want the WOW factor with their labels but cost and faster time to market are equally important. With MPS capabilities in label printing, and Color-Logic at the design stage, all three desires are now achievable.
Learn more about the Color-Logic system here.
Contact us to further understand how Color-Logic and MPS can help your customers elevate their labels with metallics and embellishments.