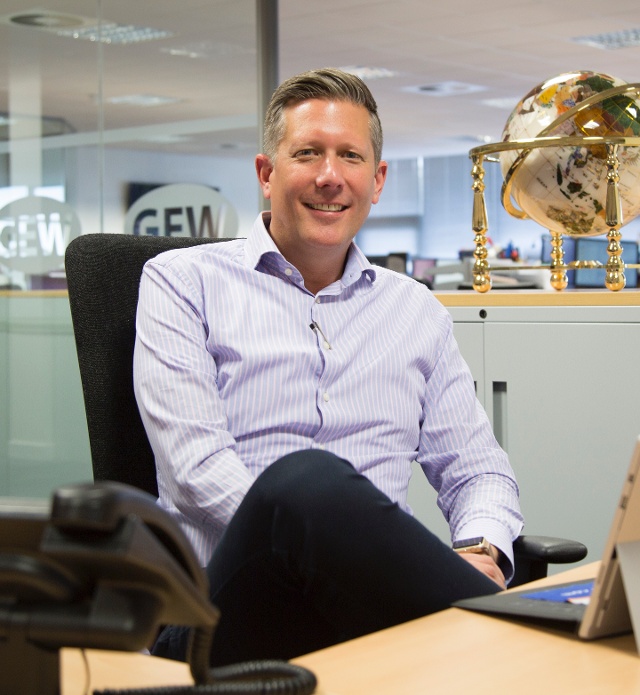 Marcus Greenbrook, Director International Sales and Service of GEW shares another blog with MPS with an explanation of their UV arc lampheads and LED curing. He also explains how they can benefit label printing on your narrow web flexo press.
E2C, the industry standard UV arc lamphead
The E2C is GEW's most popular UV arc lamphead, with over 30,000 units installed worldwide over the last 10 years.
Fully air-cooled, it delivers unparalleled curing performance up to 140W/cm, due to its patented ultra-efficient reflector designs. No similar product delivers more curing performance at this energy level.
Perfect for use on any machine up to 60cm in width, the E2C supports printing on the widest range of materials. It also boasts GEW's renowned quick-change cassette design, enabling a new lamp to be fitted in under two minutes with a simple hex key.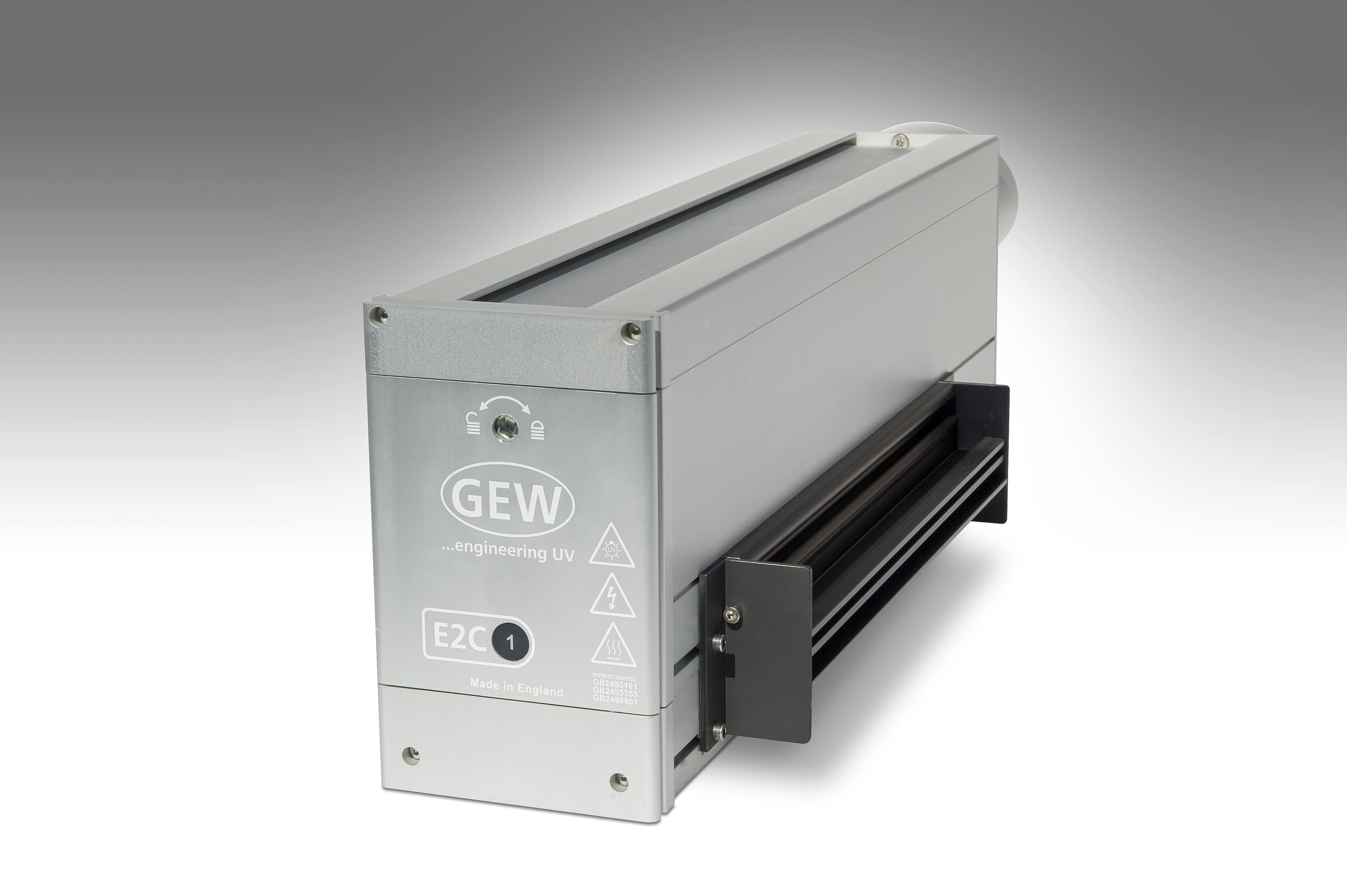 Reliability is guaranteed and the E2C can be purchased with a 5-year warranty which means no unplanned maintenance costs well beyond the return-on-investment period, as well also being able to upgrade to UV LED at a later date.
This is the solution for you for when conventional UV arc is required on any narrow web flexo press.
E2C Benefits:
High performance

– Optically tuned reflectors and low IR emission support high curing speeds on sensitive substrates

Lowest total cost of ownership

– 45% energy saving; save tens of thousands of Euros or Dollars over the lifetime of your machine; reduced plant air consumption

Maximum machine productivity

– Fast-start lamp technology; system proactively avoids unplanned downtime; consistent, high-speed curing; quick to install

Flexible Options

– Doped lamps (Fe, Ga); customisation to suit specialist applications; multi-point UV monitoring

Up to 5-year warranty

– Safeguards against unplanned maintenance costs

LED ready

– Upgrade easily to UV LED curing in future by using the same RLT ArcLED hybrid power supply.
E4C, compact high power UV arc lamphead
The E4C offers the highest power available from the GEW range, to support the most demanding UV curing applications and the fastest printing speeds on web presses.
It's designed to operate with the lowest level of maintenance and is engineered for fast, easy lamp changes. All replaceable components are plug-and-play, and the reflectors can be cleaned and fully replaced without breaking the water seals. Furthermore, the reflector mechanisms and seals are tested to millions of operations to ensure reliability.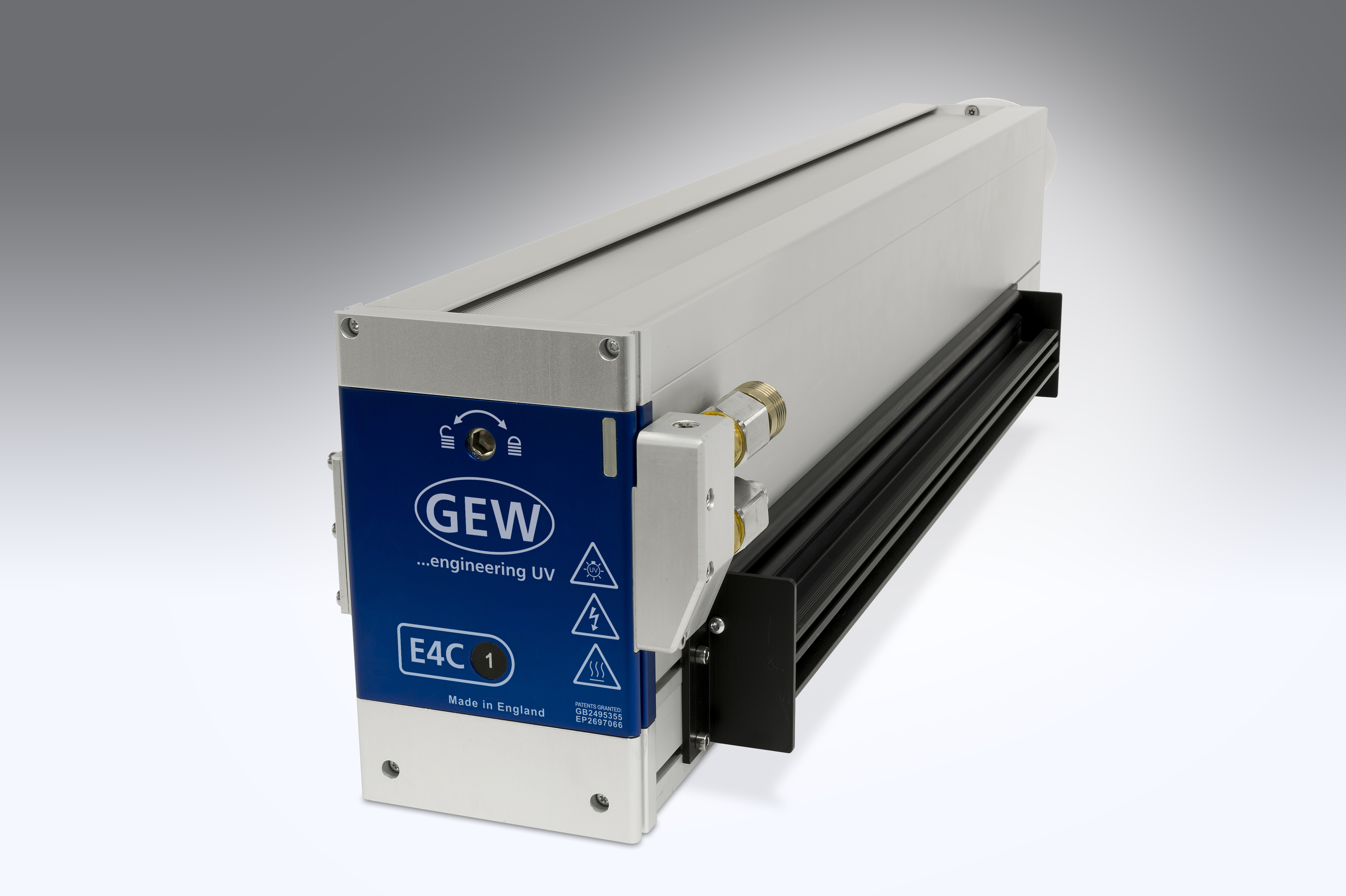 E4C is also UV LED-ready: its hybrid lamp casing can also take the LeoLED cassette and run from the same water pipes, manifold, chiller and chiller settings.
This is the solution for you for when high power conventional UV arc is required on any narrow web flexo press for low migration or high speed reel to reel without die cutting.
E4C Benefits:
Highest power

– High powered 220W/cm in GEW's standard E2C lamp profile, for the most demanding print applications

Easy maintenance

– Designed for fast, simple lamp changes and easy replacement of reflector without breaking water seals

Flexibility

– LeoLED cassettes all fit in the same casing for ultimate flexibility of press setup and cost-effective upgrades to existing systems

Maximum machine productivity

– Fast-start lamp technology; system proactively avoids unplanned downtime; consistent, high-speed curing.
AeroLED, air cooled UV LED
GEW's AeroLED is a fully air-cooled, high power UV LED for full cure, printing, coating and converting applications up to 60cm wide.
Its unique air-cooling concept uses a single, remote fan to cool the LED lamps with clean, filtered air eliminating the need for delicate electronics and high pitched, noisy fans inside each unit. No water-cooling also reduces cost and complexity while increasing reliability.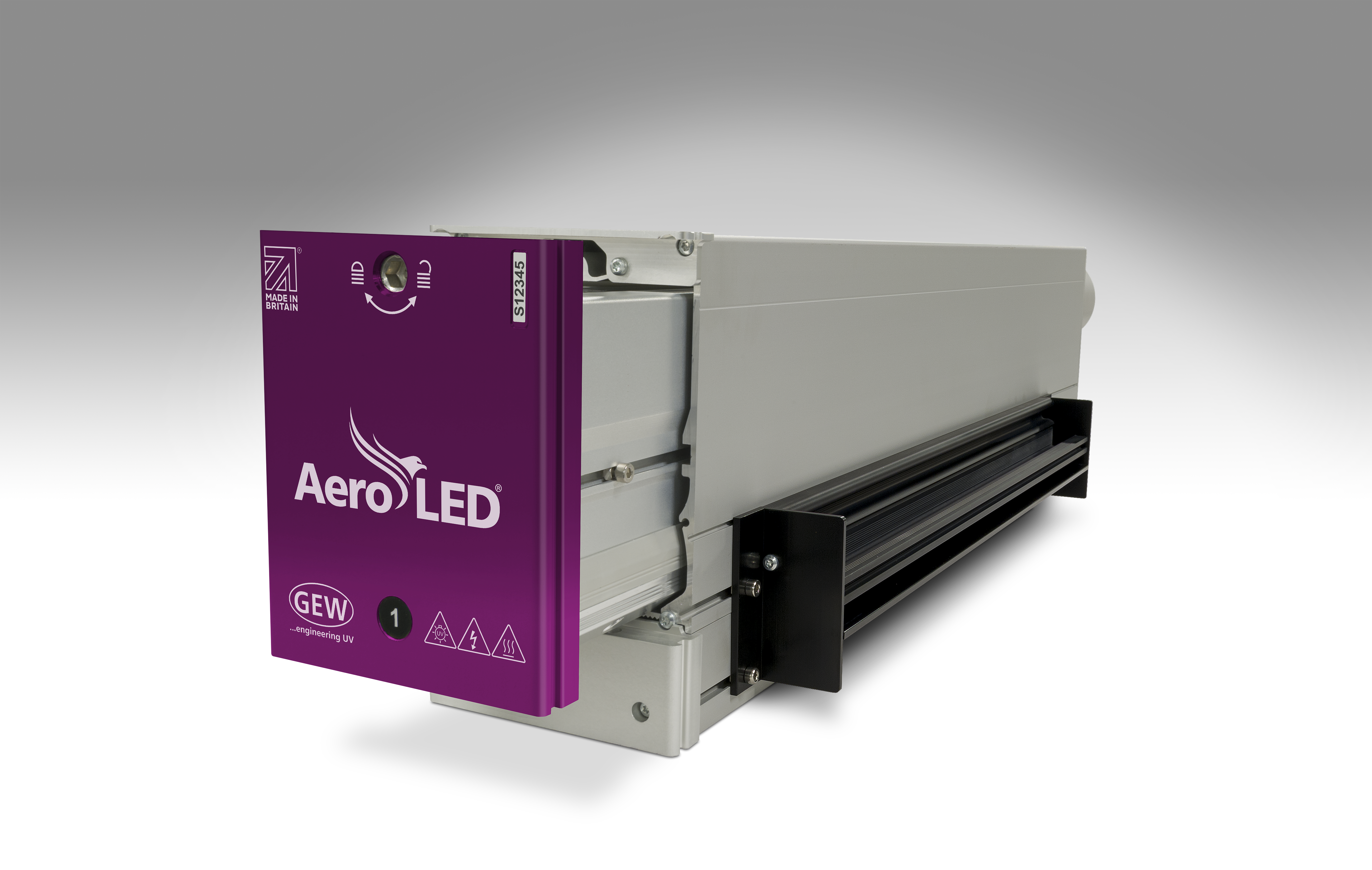 AeroLED's efficient optical design enables the lowest energy usage of all our products. This typically delivers energy savings of 50-70% and investment returns on new machinery of less than one year.
Reliability from day one is guaranteed as AeroLED utilises the same core components as GEW's long proven LeoLED model (>2000 units installed).
This is the solution for fixed position UV LED and the most cost-effective way into UV LED curing.
Benefits of AeroLED:
Fully air-cooled

– a single remote fan brings clean, filtered air to the lampheads and eliminates need for delicate electronics and high pitched, noisy fans in each unit. No water-cooling reduces cost and complexity while increasing reliability

Fast curing

– AeroLED's 20W/cm2 array gives industry leading performance for all narrow web machines

Same core components

as long proven LeoLED, which guarantees reliability from day one

Cut energy costs

by 50-70%, with ROIs on new machinery often less than one year

Free up mains capacity

with electrical requirements over 50% less than arc – two AeroLED systems require the same power as one E2C system
LeoLED, water cooled UV LED
GEW's LeoLED Cassette has a unique concept: deliver more UV dose for the money than any other product available.
Over five years of product development and the latest LED technology combine to transform the economics of UV LED curing. Fully water-cooled, LeoLED provides over 35% more dose and 40% higher irradiance than GEW's previous LED models.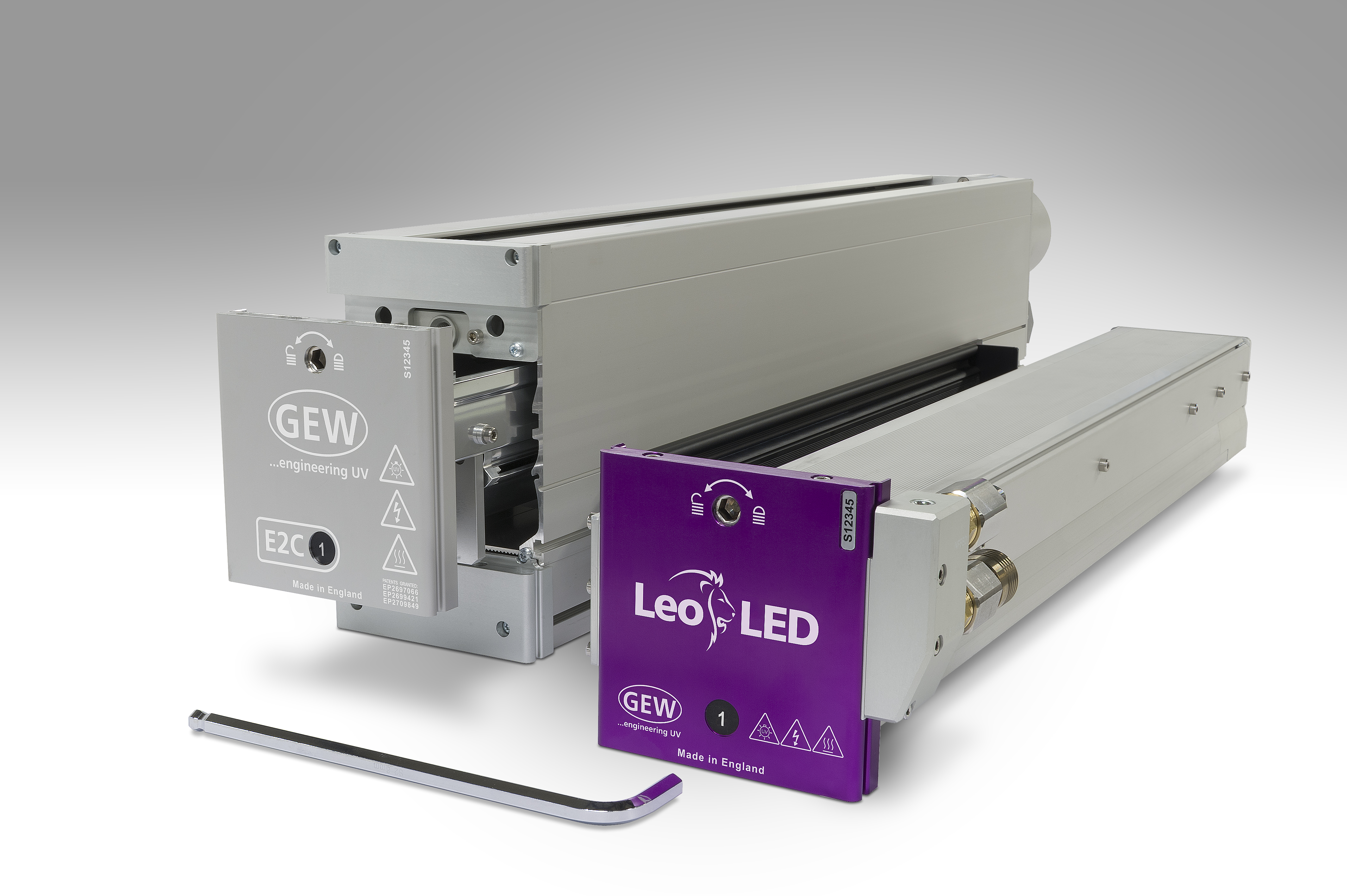 No other product on the market enables faster printing, whilst the cassette is designed to interchange with either E2C or E4C arc lamp models. This ArcLED concept gives ultimate flexibility with every print station able to be set up for either UV arc or UV LED.
This is the solution, in conjunction with E2C or E4C when the flexibility is required to move between UV arc and UV LED at each print station
Benefits of LeoLED
Faster curing

– LeoLED's industry-leading dose output supports the market's fastest printing speeds

Print without limitations

– Unsupported films, shrink sleeves and other delicate materials can be processed without heat damage

Reduced energy consumption

– Higher electrical efficiency of LEDs and instant on/off switching allow typical energy savings over 50% (versus a brand new UV Arc system)

Increased machine uptime

– No moving parts for low maintenance and no warm-up/cool-down time means less UV related downtime and better press productivity

No ozone, no mercury

– GEW LEDs produce no ozone, so there are no air extraction requirements.
RLT power supply
The power and control system for all GEW installations is known as RHINO.
All RHINO-powered systems are continuously monitored over the internet. This Remote Monitoring enables encrypted system performance data to be sent live to GEW and ensures the fastest and most precise service response available.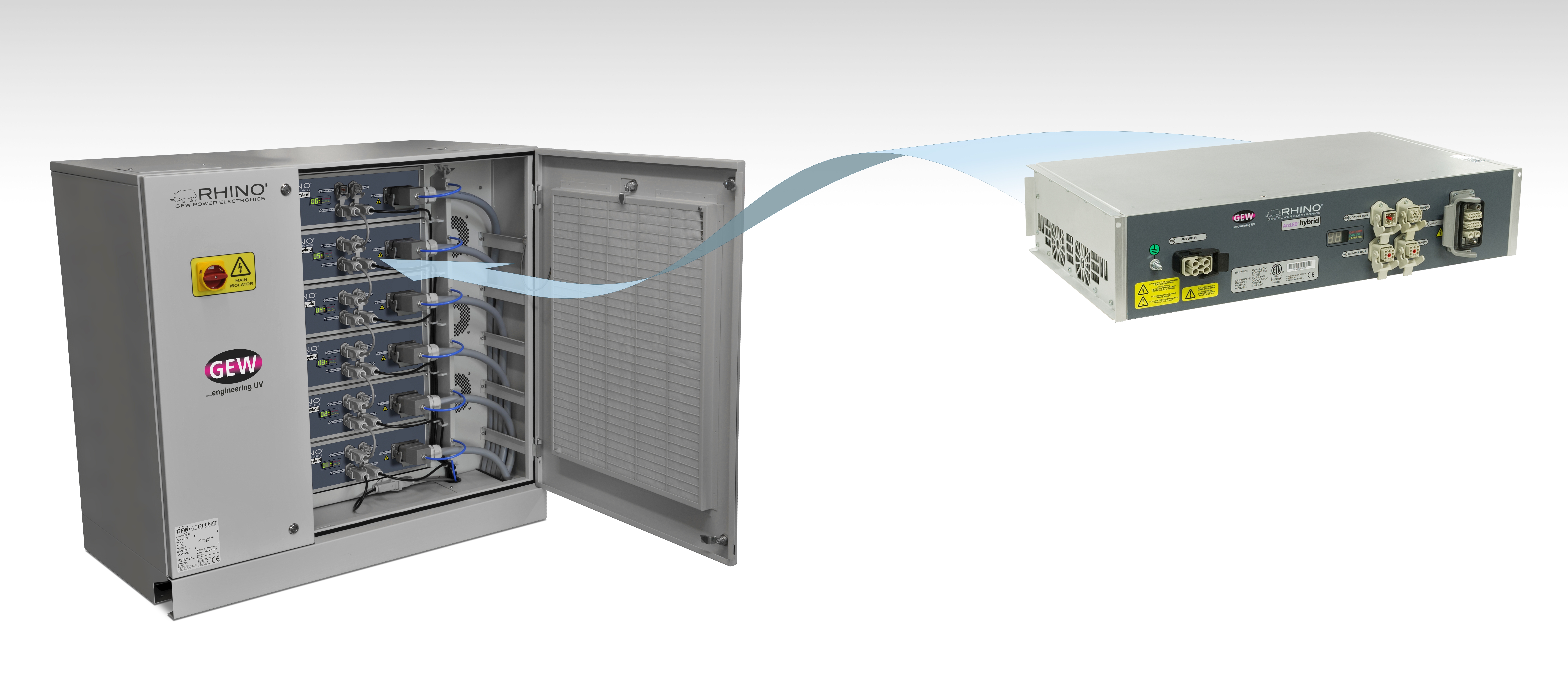 The full service history of every lamp is recorded and viewable by GEW engineers in the UK, including all parameters, faults and operator commands. A preventative maintenance program will recommend software or hardware updates and can highlight and correct out-of-tolerance parameters before an issue arises on site.
Remote Monitoring also enables comprehensive monthly system performance reports to be sent to the customer. These include energy use and machine uptime, so that press productivity can be monitored more closely than ever before.
For more information about GEW's UV curing systems and how they can be integrated into your existing MPS flexo printing press, contact us here.