For 25 years, MPS has constantly advanced their presses with innovative technologies in response to customer feedback, market demand, and industry developments.
In response to changing needs and market developments in the industry, in 2021 MPS embraced a new corporate vision and brand identity with 'Connect to Grow' as its new brand promise. The cornerstone of Connect to Grow is looking beyond the machine through intensive cooperation with customers to address all aspects involving their MPS presses, to help them achieve the best performance and maximum return.

Based on the successful foundation of six previous EF platform generations, including MPS innovations such as Crisp.Dot Technology, Non-stop Print Change, and the Ultraflex Rail System, MPS recently unveiled its seventh generation EF machine. This next generation EF flexo platform provides technology enhancements and new features in connectivity, for even better press performance and output.
"By going beyond the machine in product innovation, MPS continually improves the printing process and operator experience," said Atze Bosma, CEO of MPS Systems. "It's in our DNA."
MPS EF next generation press
Taking pole position with MPSConnect
New and improved features of the EF plus the collection and analysis of performance data through MPSConnect and Performance Programs drive a successful formula for profit.
MPSConnect provides ongoing performance monitoring of the printing press through sensor technology combined with the Internet of Things, for real-time data collection and valuable 24x7 fact-based insights. From this collected data, MPS experts help customers make continuous performance improvements in waste, speed, and uptime to increase their competitive advantages and maximize their profits.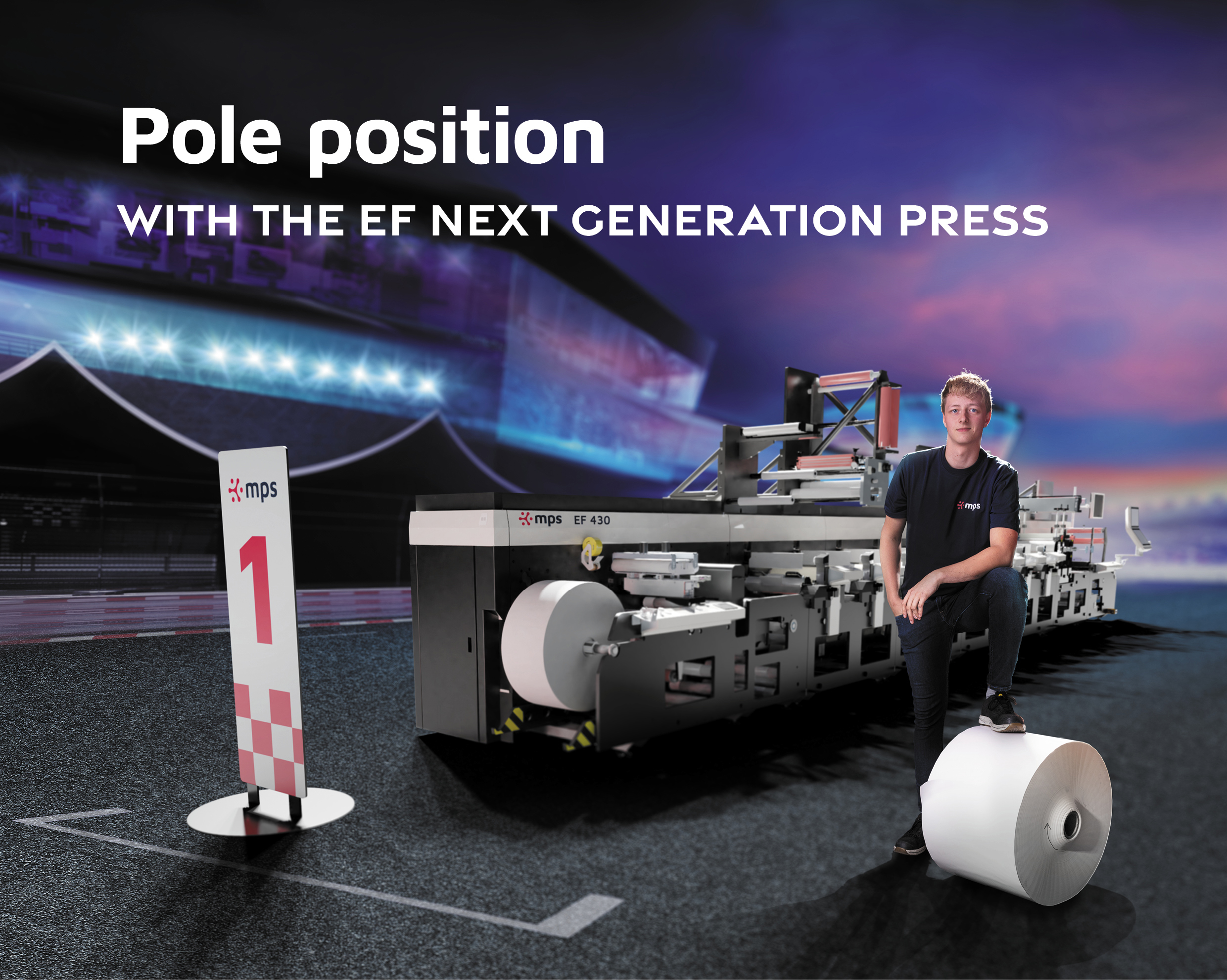 Greek narrow web printer Forlabels has two EF flexo presses that are fully connected using MPSConnect to retrieve and analyze data. As part of their Performance Program with MPS, they receive monthly reports and in-depth advice about their entire printing process.
Forlabels CEO and sales director Avgerinos Chatzichrysos said: "We are convinced these steps in performance improvement are making our company even more successful. We already see better results in our printing quality and delivery times, and with a lower cost price per 1000 labels, Forlabels is even more competitive in the market."
Another MPS customer, Bizerba UK, considered all the industries leading manufacturers before deciding the MPS EF was the press that ticked all the boxes. The ability to add innovative expandable features such as the MPSConnect feature was another major plus. "We are looking forward to adopting MPSConnect in the near future, the benefits of the programme will allow us to further enhance and improve our performance and output," said Morag Ash, Head of Labels at Bizerba UK.
Benefits of MPSConnect in a nutshell are:
Real-time performance insights of presses for relevant KPI's. 
Information about maintenance and service.
Benchmark information against industry leaders.
Identified bottlenecks, errors, and inefficiencies in the operator process. 
Trend reports on your main KPI's over time
Operator level insights, comparisons and trends

Connectivity will transform label print production
"Having a state-of-the-art printing press in your production is great. However, this press alone doesn't make you win the race. To be even more successful in the future, connectivity is key," added Bosma.
With MPSConnect, printers can measure all press activities and human interference of the operator with hundreds of sensors. This information includes speed, power, events, alarm messaging, humidity, temperature, accurate changeover time, web tension of the infeed and outfeed, exact set-up times, waste and more. Algorithms and software converts this real-time data into an array of reports and charts. This data and the reports give a clear vision of exactly how the printing press is performing.
Operational & management dashboards, as well as user management/personalized performance are also new features of the EF next generation press.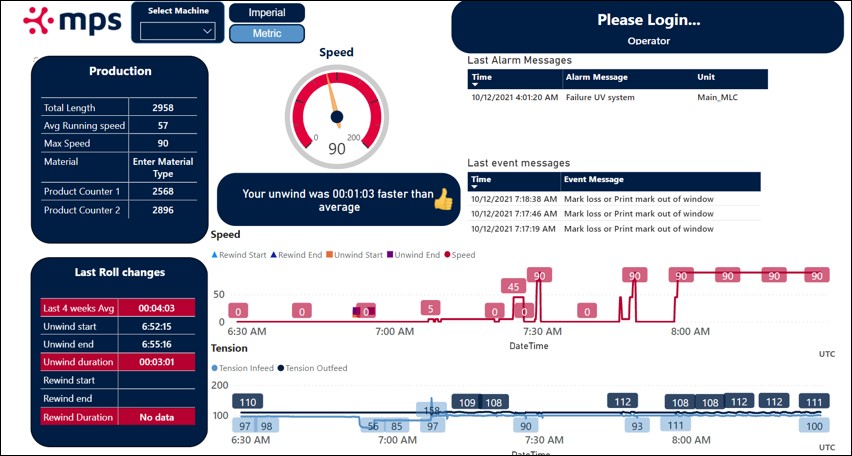 MPS operational dashboard
The operational dashboard provides the operator easy access to information such as press performance, manuals, and videos about best practices. The management dashboard provides focused information such as press performance trends, analytics, and benchmarking. With the user management/personalized performance feature, operators can be logged in individually, and access default settings can be set and stored according to print management.
"Through our MPSConnect connectivity platform we provide customers with the information and tools required to follow best practices and use their machines in the most efficient, standardized, and simple fashion. Sustainable labelling solutions is especially important in this challenging market with recent global supply chain issues of reduced raw material availability and staggering cost increases," concluded Bosma.
Start now with MPSConnect
To stay competitive in the industry, it's important for every label printer to get insights into press activities to identify opportunities for production improvements—and the time to start is now.
With connectivity through MPSConnect you gain:
Increased machine capacity by 10-20%.
Reduced waste by 3-5%.
Recurring and increasing annual cost savings of €50.000 - €100.000, thanks to more efficient workflow, time management and waste reduction.
These benefits are typical performance improvements MPSConnect customers realize. As a result, your net capacity will increase to run more customer jobs, lead times will be shorter, and you will maximize and maintain healthy profits.
With your MPS press and MPSConnect, we put you in Pole Position.
Contact us now to boost your printing productivity and profitability.