A common challenge label printing companies face today is how to achieve and maintain a lucrative cost in their overall label and packaging print production.
Hybrid printing brings many benefits to label and packaging printers, as several printing technologies and converting techniques can be combined in a single-pass process. For example, integrating the reliability, efficiency and in-line features of flexo printing with the creative possibilities of digital printing.
Wine and spirit labels are a good example for hybrid printing, as their designs, embellishments and complex shapes with up to 13 or even more colours make them a great technical challenge. Because each job is different with different colour sequences, printing processes, and embellishments, a press must be flexible to accommodate the job at hand.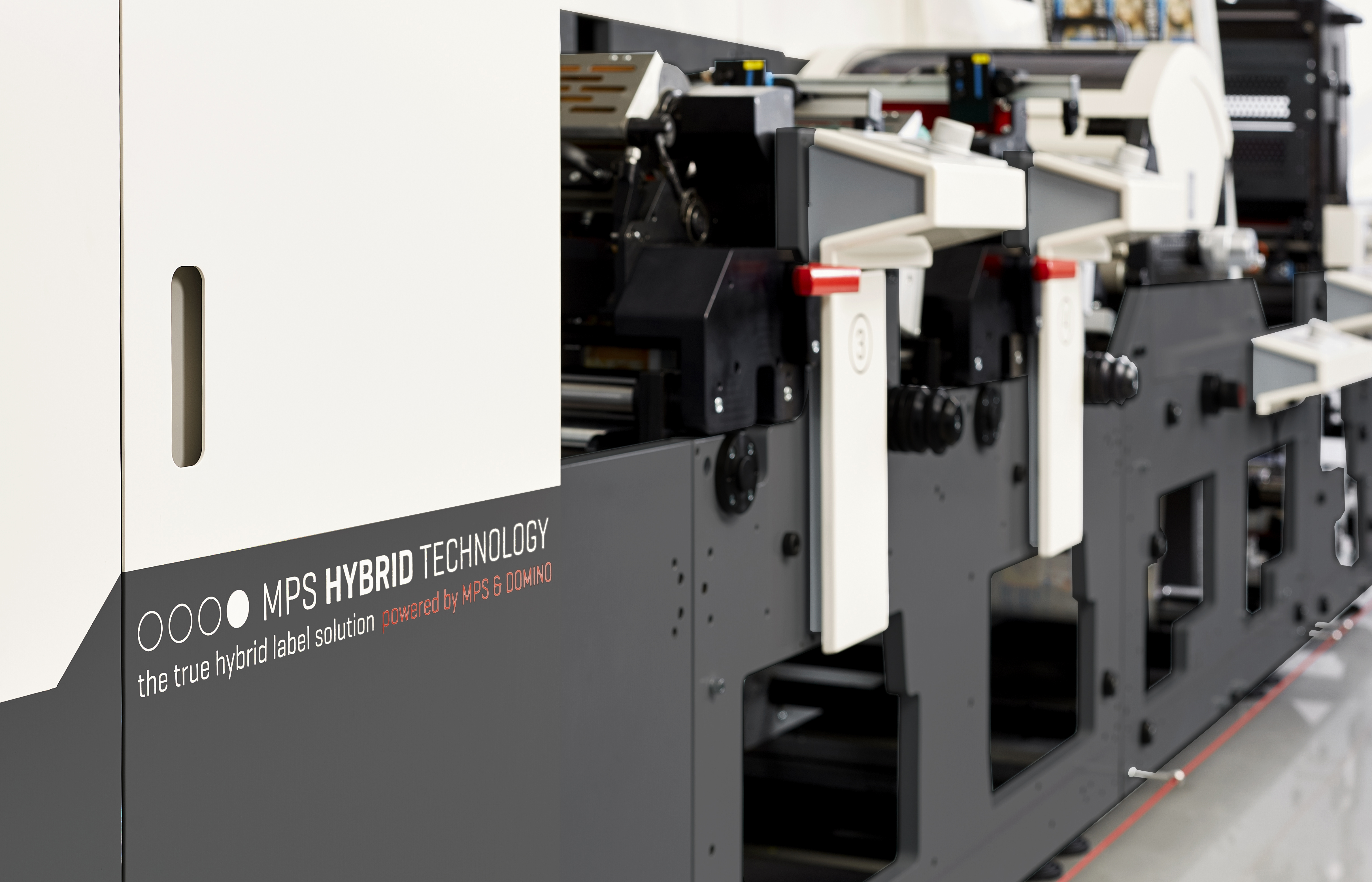 Hybrid press fills the gap
Several factors can influence the best effort to achieve the highest possible efficiency including shorter print runs, processing different types of labels, more diversified jobs, and one or more order flows congesting production capacity.
A hybrid solution can bridge the gap between conventional flexo and digital printing machines. The ongoing ability to exchange print technologies and produce labels in either flexo or digital print, or a combination of both technologies, is a significant long-term advantage of a hybrid press.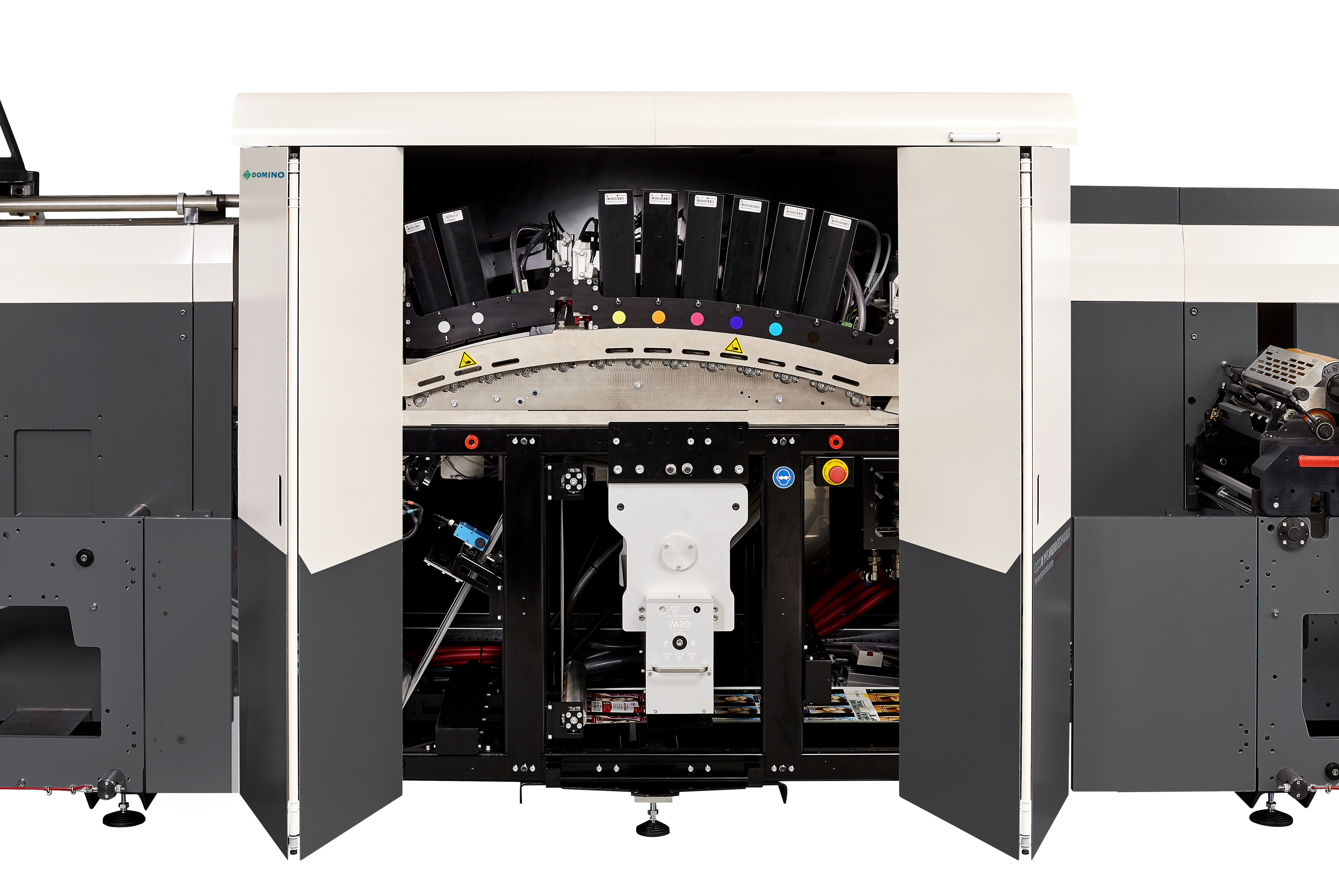 The MPS hybrid solution: EF SYMJET
As customer demands are for shorter runs with greater variation, the hybrid EF SYMJET provides an alternative option that is both flexible and affordable.
Combining the fully automated MPS EF flexo platform with the integrated well-proven Domino N610i inkjet engine, the EF SYMJET press allows converters to combine flexo and digital printing as well as converting, in one pass.
Designed for label and flexible packaging printing from thin unsupported film to thick carton board, the press offers all possible converting options including multi-layer label production, die-cutting, lamination, gravure and screen.
The Domino digital unit uses Kyocera print heads to print a resolution of 600x600 dpi, with up to six colours and opaque white. The 340- & 430mm web widths on the Domino printer and on the MPS press gives converters the option to run more labels across, when operating in pure flexo mode, and at higher speed.
The EF SYMJET press is well-suited for various markets, including labels for household, personal care, food, beverage and other markets; labels with variable data; labels with black marks; flexible packaging; and shrink sleeves.

Meyers, a US-based printer explains their choice for the EF SYMJET: "We purchased the MPS EF SYMJET because of the flexibility it offers in our ability to produce decorative effects and die cutting inline along with digital."

EF SYMJET: The Hybrid Printing Solution
Adding connectivity for real-time performance insights
MPS' mission is to not only develop and deliver robust, reliable, highly qualified and highly automated printing presses ready for 24 x 7 operations. They also help customers achieve the best performance and maximum return from their MPS machine with Connect to Grow as their brand promise.
By making use of hundreds of events and many sensors in the MPS press with MPSConnect, continuous streaming data can be collected and analyzed to understand bottlenecks, benchmark, and to continuously improve the press performance.
With MPSConnect, you can measure all press activities and human interference of the operator with hundreds of sensors. This information includes speed, power, events, alarm messaging, humidity, temperature, accurate changeover time, web tension of the infeed and outfeed, exact set-up times, waste and more.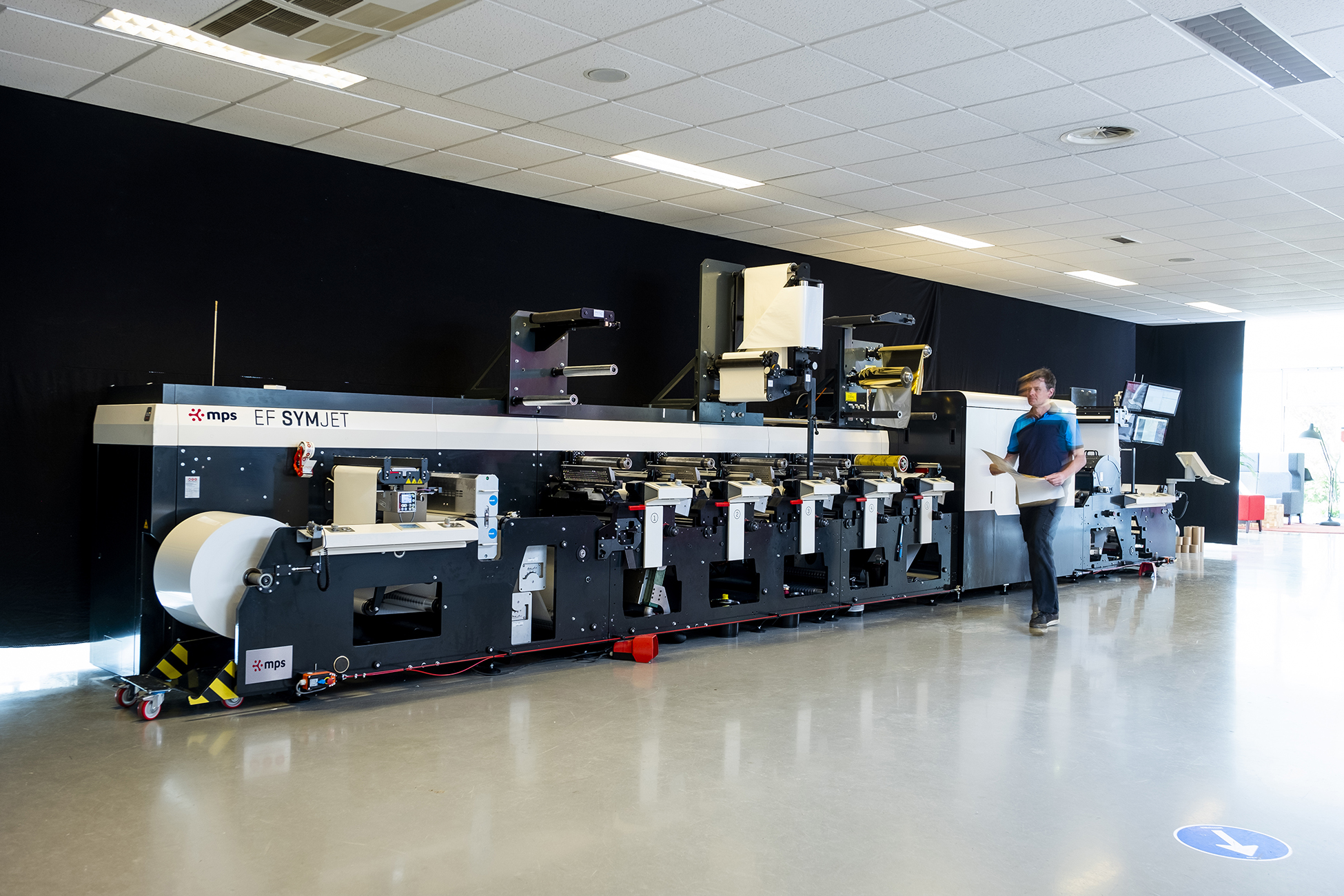 Will a hybrid press benefit your business?
Answering the question as to when a hybrid narrow web press is the viable solution is dependent on some factors.
For example, the quantity of smaller sized jobs, the degree of processing of different types of labels, more diversified jobs, and to what extent workflows congest production capacity.
Initially a larger investment, the ongoing ability to print labels by either the flexo or digital process, or a combination of both technologies, is a significant long-term advantage of a hybrid press.
The added cost is repaid by greater efficiency. Considering the lifetime of the press, with frequent diversity of order flow, the return is higher productivity.