From articles published by PPM and The GAPP Magazine.

Managed and owned by Ahmed and Aslam Monia, JMB Labels is one of South Africa's leading and fastest growing label printing specialists. From humble beginnings in 1987, JMB Labels today occupies a 1 500 m² office and factory site in Amalgam, Johannesburg.
JMB Labels' early success was built on supplying plain and printed self-adhesive labels for the FMCG and retail markets. Due to a surge in demand, the company was compelled to expand the business and invest in additional machinery.
In 2013, JMB Labels became the proud owners of an MPS EC UV flexo multi-substrate press, thanks to Rotocon, a leading supplier of state-of-the-art printing technology and consumables for South Africa's narrow-web and label printing industries.
The MPS EC UV has multi-substrate capabilities and can handle material thickness from 12 to 450 µm. A 410 mm web width makes it ideal for the production of self-adhesive and shrink-sleeve labels at speeds of up to 200 m/min.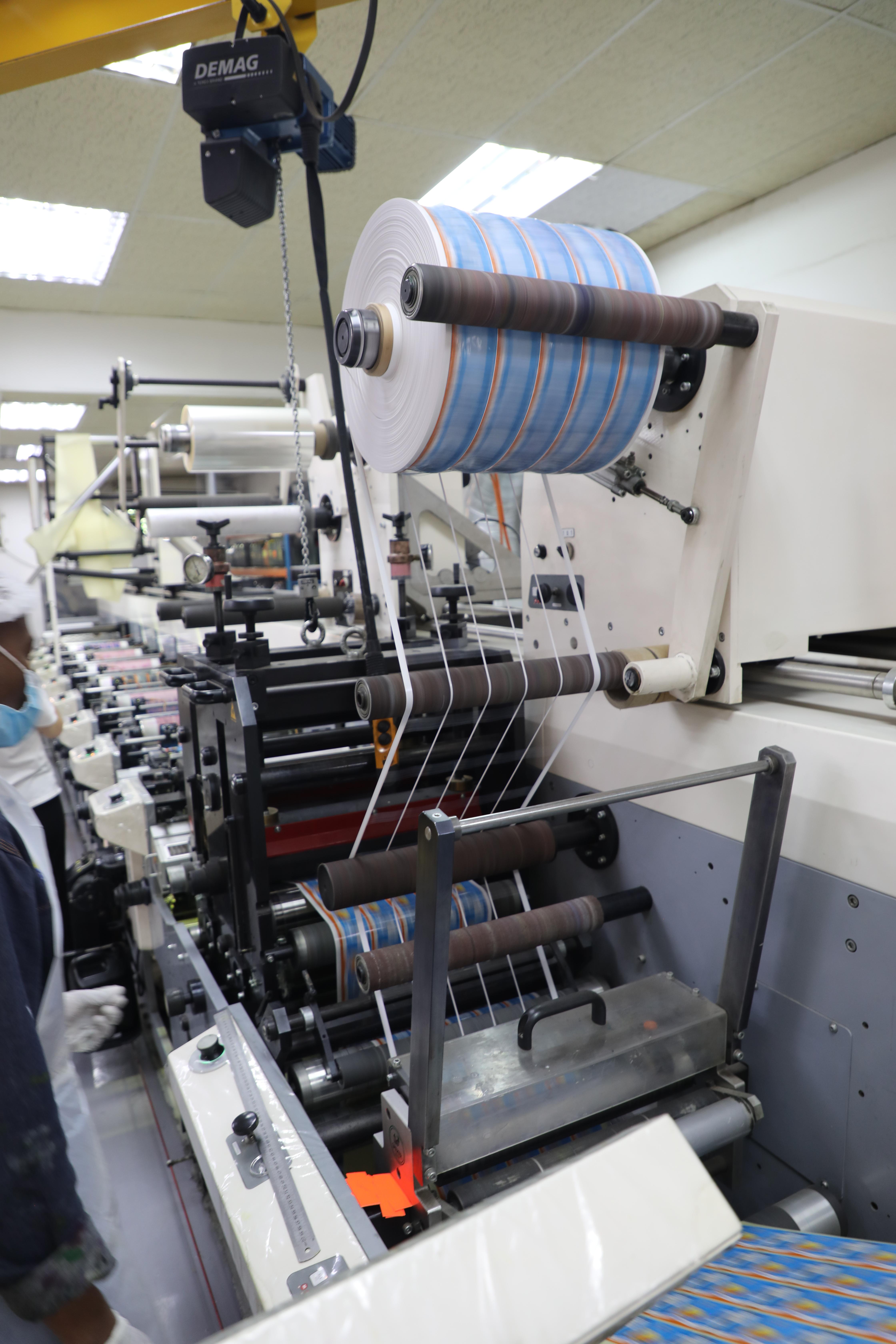 The MPS EC UV, installed in 2013, still operates perfectly and is JMB Labels' flagship machine.
Aslam and Ahmed considered several presses that could potentially meet their needs. However, it was more than just technology that won MPS flexo press the deciding vote. "We were blown away by the press's state-of-the-art features and by the people who make it all happen."
One year after the initial installation, Aslam says JMB Labels had entered new markets, attracted new customers, including FMCG companies, and achieved a 30% increase in sales.
"We're still very much focused on doing business with independent companies, instead of multi-corporations. That's because we're able to offer them that 'personal touch.' It's a strong component of our operation," comments Aslam.
"We've built strong relationships with our customers over the years. As they've grown, so have we." According to him, market trends have also evolved, and many products traditionally bearing self-adhesive labels are now presented in wraparound or shrink sleeve labels. "As a result, we've had to make changes to our business model to keep one step ahead and meet brand owners' requirements."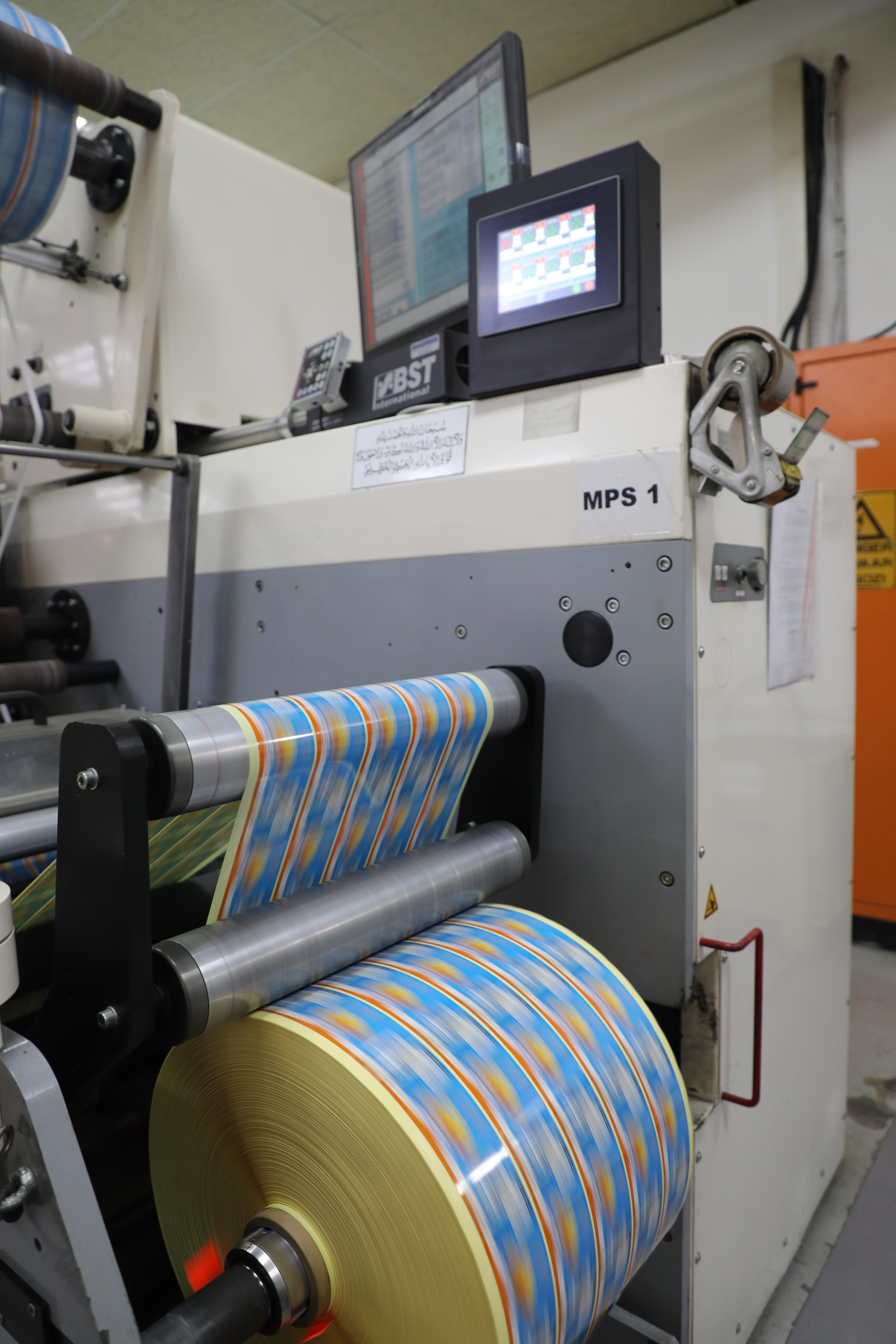 Equipment extraordinaire
Impressed with the capabilities of the MPS EC UV, and how it managed to streamline its core business, owners Ahmed and Aslam purchased a second MPS flexo press – the EB 370 – in 2015.
Rotocon's technicians since installed a Domino K600i one-colour digital print bar into the MPS EB 370 press to transform it into a value-add hybrid press that can print variable data including text, sequential numbers, barcodes and 2D codes at a native resolution of 600dpi and operating speeds of up to 150m/min. 'Although there hasn't been a need to transition to a digital print shop yet because our run lengths are typically 10 000 and over, we've always referred to the EB as our digital press. This is because our operator can perform job changeovers so quickly that we can average 10 to 12 jobs on it daily with proper planning,' Aslam enthuses.
JMB Labels bought their third MPS press via WhatsApp in 2019 after Rotocon shared the deal details and price of the EFS 430 model from Labelexpo Europe in Brussels.
"The MPS EFS press has improved our production process at all levels," says Farhad Evans, production manager at JMB Labels. "Make-ready times are shorter with the use of printing sleeves as compared to conventional printing cylinders. The short web path facilitates cost saving on material and reduces wastage."
Most importantly for Aslam and his team is the print quality of the MPS is constant throughout the run and it has given them the confidence to target more companies seeking high-end, quality labels and packaging for their products.
The brothers' admiration for MPS press technology dates back to 2001, when they saw the first press in action at Labelexpo Europe and appreciated how the technology made printing so much easier. 'The fact that the company was built by a core group of friends and that co-founder Eric Hoendervangers came to visit our facility in Johannesburg when he was in South Africa – although we weren't ready to buy a press yet – and started building a relationship left a lasting impression,' Aslam recalls. 'We are firm believers in dreaming and setting our targets and goals, and so far, we've reached all of them, including owning three MPS presses.'
He says the MPS flexo presses feature predictable, high-quality label printing and user-friendly press operation. "MPS is known for its reliable productivity, and we haven't looked back since."
"We're completely satisfied with the MPS presses. Runs of 10 000 to 1 million labels are done with ease and efficiency. We're also quite pleased with the level of service received from the entire MPS and Rotocon teams.
The MPS flexo presses are built standard with Crisp.Dot light technology delivering superior print quality, iSet intelligent pressure settings, iStop technology ensuring zero waste at roll change, full-length rail system, quick change die-station and a pre-register function.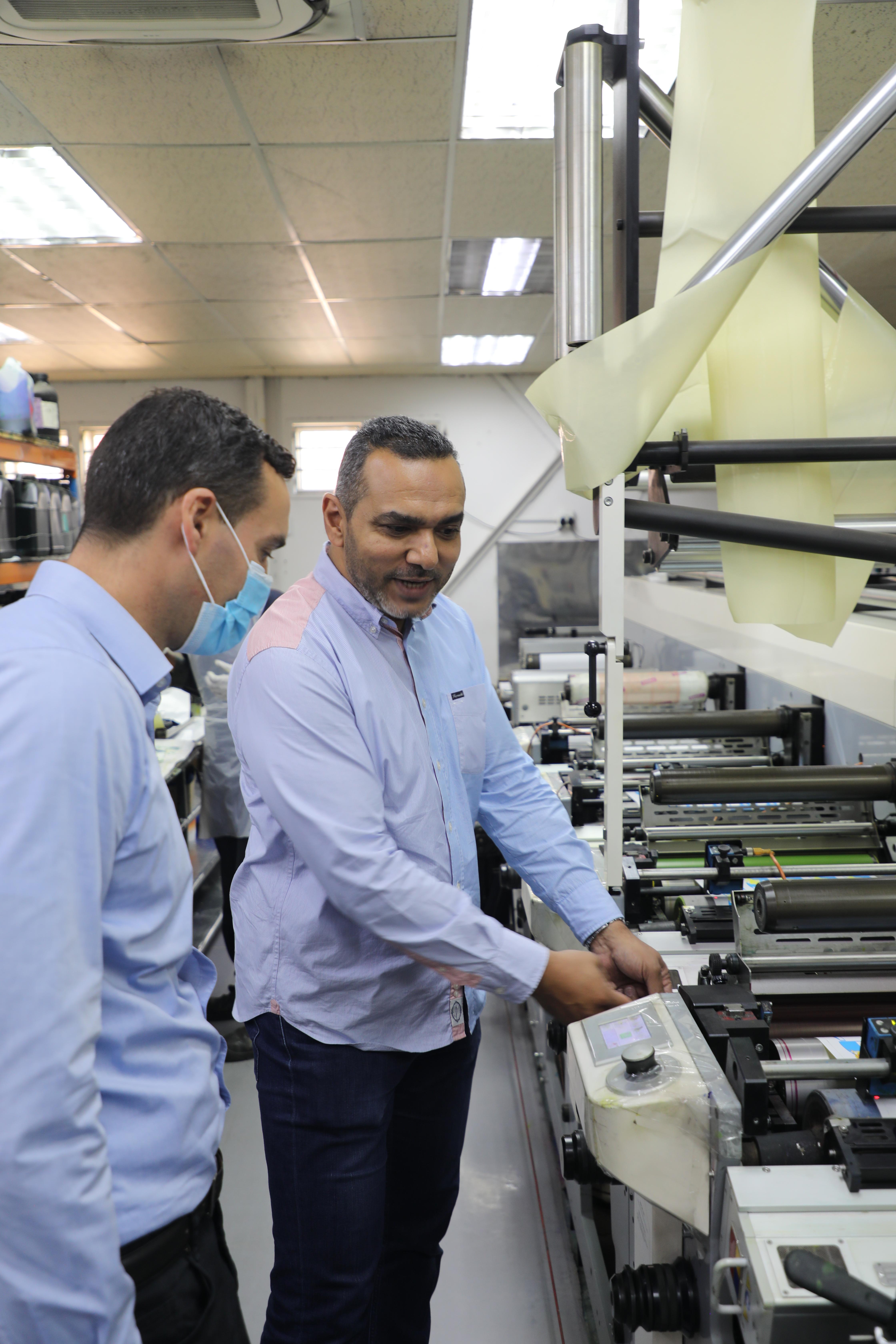 Pascal Aengenvoort (ROTOCON coowner) and Aslam Monia (JMB Labels' co-owner)
inspect the MPS flexo press.
Superior support
JMB Labels is continuously growing with its customer base to provide them with top-quality products. It's been ably supported in this mission by its suppliers who offer the perfect combination of ultra-modern machinery and top-class service.
It's been nine years since the initial MPS installation at JMB Labels, and Aslam says the machines have been running tip-top without a hitch. "MPS's reputation for quality and reliability is legendary. Not only are the machines easy to install and operate, but they have worked perfectly from day one."
Aslam says his customers have noticed significant improvements in the accuracy of their work and faster job turnarounds. He reiterates the importance of strong, long-standing, and trusted business relationships. "We've built enduring alliances with all our suppliers and trust their products and industry expertise and we know we're getting the best for our business, and ultimately, for our customers."